Warning
: SimpleXMLElement::__construct(): Entity: line 1: parser error : Space required after the Public Identifier in
/home/themadh/public_html/wp-content/plugins/amazonsimpleadmin/lib/Asa/Service/Amazon/Request/Abstract.php
on line
62
Warning
: SimpleXMLElement::__construct(): <!DOCTYPE HTML PUBLIC "-//IETF//DTD HTML 2.0//EN"> in
/home/themadh/public_html/wp-content/plugins/amazonsimpleadmin/lib/Asa/Service/Amazon/Request/Abstract.php
on line
62
Warning
: SimpleXMLElement::__construct(): ^ in
/home/themadh/public_html/wp-content/plugins/amazonsimpleadmin/lib/Asa/Service/Amazon/Request/Abstract.php
on line
62
Warning
: SimpleXMLElement::__construct(): Entity: line 1: parser error : SystemLiteral " or ' expected in
/home/themadh/public_html/wp-content/plugins/amazonsimpleadmin/lib/Asa/Service/Amazon/Request/Abstract.php
on line
62
Warning
: SimpleXMLElement::__construct(): <!DOCTYPE HTML PUBLIC "-//IETF//DTD HTML 2.0//EN"> in
/home/themadh/public_html/wp-content/plugins/amazonsimpleadmin/lib/Asa/Service/Amazon/Request/Abstract.php
on line
62
Warning
: SimpleXMLElement::__construct(): ^ in
/home/themadh/public_html/wp-content/plugins/amazonsimpleadmin/lib/Asa/Service/Amazon/Request/Abstract.php
on line
62
Warning
: SimpleXMLElement::__construct(): Entity: line 1: parser error : SYSTEM or PUBLIC, the URI is missing in
/home/themadh/public_html/wp-content/plugins/amazonsimpleadmin/lib/Asa/Service/Amazon/Request/Abstract.php
on line
62
Warning
: SimpleXMLElement::__construct(): <!DOCTYPE HTML PUBLIC "-//IETF//DTD HTML 2.0//EN"> in
/home/themadh/public_html/wp-content/plugins/amazonsimpleadmin/lib/Asa/Service/Amazon/Request/Abstract.php
on line
62
Warning
: SimpleXMLElement::__construct(): ^ in
/home/themadh/public_html/wp-content/plugins/amazonsimpleadmin/lib/Asa/Service/Amazon/Request/Abstract.php
on line
62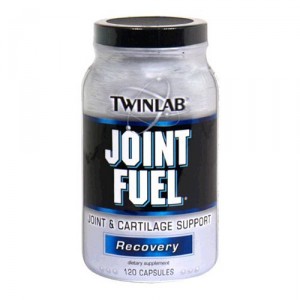 JointBoneJournal.com's Score:

Amazon.com Rating:
 
It is also available from:
What is Joint Fuel?
Joint Fuel is a joint supplement from TwinLab which manufactures a variety of other supplements as well.
Other Features:
Joint Fuel has 1500mg of glucosamine sulfate and 100mg of chondroitin sulfate. It also has 702mg of tumeric to reduce inflammation. It also has Vitamin C, Vitamin E, Zinc, Selenium, quercetin, and bromelain which are all helpful.
Artificial Dyes or Coloring
We found no artificial dyes or coloring in Joint Fuel.
Conclusion:
1 star out of 5.
JointBoneJournal.com's Ingredient Analysis:
| | | |
| --- | --- | --- |
| Joint Fuel | Ingredient | Our Comments |
| | Glucosamine | Uses 1500mg of glucosamine sulfate. Glucosamine is a precursor to glycosaminoglycans which are a major component of joint cartilage. |
| | Chondroitin Sulfate | Has only 100mg of chondroitin sulfate, about 1/8 the average amount. Chondroitin makes up glycosaminoglycans which are a component of cartilage. |
| | Boron | Doesn't have boron. People that have boron as a part of their diet have a lower chance of developing osteoarthritis. |
| | Avocado Soy Unsaponfiables (ASU) | Doesn't have ASU. ASUs are commonly prescribed in France for the treatment of arthritis. |
| | Methylsulfonylmethane (MSM) | Doesn't have MSM. MSM is a vital source of sulfur for protein and connective tissue synthesis. |
| | Boswellia serrata | Doesn't have boswellic acid. Boswellic acids are anti-inflammatory compounds. |
| | Cetyl Myristoleate (CMO) | Doesn't have CMO. Cetyl myristoleate is a compound found in the joints of arthritis-resistant mice. |
| | Curcumin | Has 702mg of tumeric root extract. A good amount. Curcumin is used to reduce inflammation in Ayurvedic medicine. |
| | Hyaluronic Acid | Doesn't have hyaluronic acid. Hyaluronic acid is a vital fluid found in the synovial (joint-lubricating) fluid. |
Joint Fuel Ingredients
Joint Fuel
Supplement Facts
Serving Size 6 Capsules
Servings Per Container: 20
Amount Per Serving
%Daily Value
Vitamin C
1000mg
1667%
Vitamin E (as d-alpha tocopheryl acid succinate)
800IU
2667%

Zinc (as zinc picolinate)

30mg
200%
Selenium (as selenomethionine)
198mcg
283%
Glucosamine Sulfate
1500mg
*
Chondroitin Sulfate
100mg
*
Tumeric Root Extract (standardized to 95% curcuminoids)
702mg
*
Quercetin Dihydrate
100mg
*
Bromelian
200mg
*